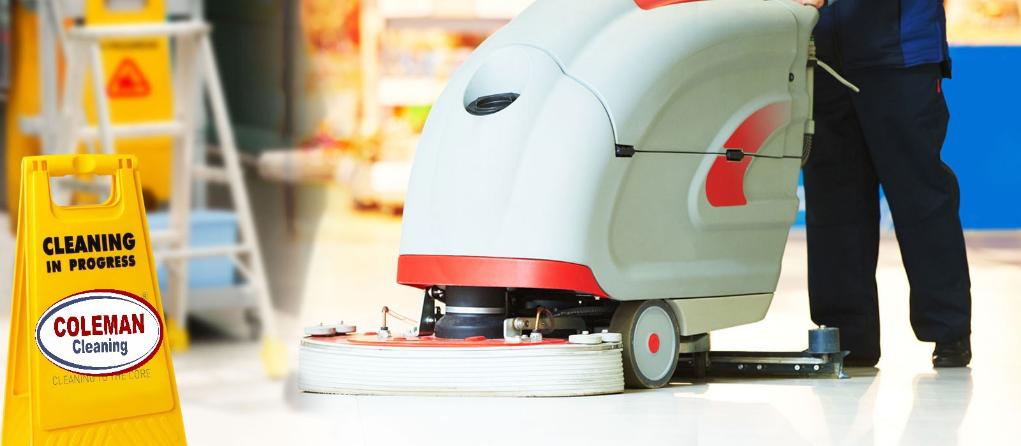 Industrial Floor Cleaning
At Coleman Cleaning of Lincoln, we are committed to environmental matters and are particularly pleased to be able to contribute to the improvement of the conditions in which we all live and work with our commercial floor cleaning and sanitation services.
We can bring back factory floors, general work surfaces, Bin areas, public or private play and recreation areas to their original (and safe) condition.
With the increase in use of tiles and natural stone by both architects and the general public in recent years, cleanliness has become rather problematic. General off the shelf cleaners and a mop may appear to be working when the surface is new but eventually the dirt and soil begins to build up, tiles start to look bland and grout lines lose their colour and can start to turn black.
On running your finger along a grout line it will probably feel greasy, this is due to constant mopping or conventional cleaning which tends to loosen the dirt, move it around and then deposit it in the grout lines. Until now there has been no real solution, people have either accepted the surface can't be cleaned totally and put up with it or in extreme cases rip out the tiles and replace them, however at Coleman Cleaning of Lincoln we have a the ideal solution for cleaning floors in industrial and commercial areas.
Technology of tomorrow
The technology and equipment that we use at Coleman Cleaning of Lincoln is completely new to the market and has been developed in conjunction with our own range of cleaning products that further enhance the efficiency of our floor cleaning system.
Using a combination of heat, water pressure, detergents and vacuum the surface can be thoroughly and deeply cleaned and sanitised with all debris being removed rather than moved around and then deposited again.
Once the floor has been thoroughly cleaned it can then be treated to help prevent the build-up of contamination again. Grout lines can either be clear sealed or colour sealed. Clear sealing involves applying a colourless protective treatment, this is not a coating that sits on the surface but an impregnation that not only seals, but allows the grout to breath as well. It is recommended that all natural materials are clear sealed such as limestone, sandstone, travertine and slate. This seal helps prevent contamination from spillages such as tea, coffee, wine, beer and further prevents the build-up of algae and moss when used outside.
For more information on our industrial floor cleaning and sanitation services, please contact a member of the Coleman Cleaning of Lincoln team today who can help discuss all aspects of our services with you.
Our Services
Commercial Carpet Cleaning

Daily Contract Cleaning

Drain Cleaning & Blockages

Extractor Hood Cleaning

Floor Cleaning & Sanitation

Fire Damage Repair

Full Building Cleaning

Glass Roof Cleaning

Graffiti Removal

Gutter Clearance & Repair

Garden Maintenance

General Waste Removal

Hazardous Waste Removal

High Access Window Cleaning

High Pressure Steam Cleaning

Kitchen Deep Cleaning

Oven Cleaning

Pest Control

Trauma Scene & CSCT

UPVC Cleaning

Void Cleaning

Water Damage Restoration

Winter Supplies